My Guarantee

Do you believe in value? I do. A beautiful piece of jewelry that is exquisitely crafted from noble materials has an intrinsic value, and I believe in ours.

The value of a Pharaoun design is real and timeless.

If for any reason you would like to return your Pharaoun piece to me, just ask, and I will purchase it from you for the full original purchase price, no questions asked.

That's My Guarantee - Sergio.
Craftsmanship & Materials

Each Pharaoun piece is designed by me, Sergio, and handmade in my workshop of sterling silver with manmade cubic zirconia stones. My yellow gold, pink gold, and black rhodium pieces are additionally plated in 22 karat yellow gold, 18 karat rose gold, and black rhodium respectively.

If you have any additional questions about my design or creation process, please contact me directly here:
Shipping

I try to ship out your pieces on the same day or next business day after you place your order. 

Domestic packages in the US that qualify for free shipping are sent either First Class or Priority Mail through USPS.  You should receive your Pharaoun pieces within 2 to 5 business days after placing your order.  If you have a special event or would like me to ship yours overnight, please let me know, and I will do everything I can to get your ring to you on time.

International packages are sent using Global Priority Express through USPS.  Time until delivery varies by country, but in my experience take between 3 and 30 days.
Returns

I want you to love your Pharaoun, so if it isn't perfect, please let me know, and I will exchange, replace or refund your order right away. 

Returns are accepted on any design regardless of the purchase date, for your choice of either an exchange or a full refund.

When you are ready, please email me at returns@pharaoun.com, so I can send out your new Pharaoun or refund you right away.
The Story of Mandala
I didn't know what a mandala was until my sister Beatriz taught me.  She had tried to explain what they were before we visited The Rubin Museum in New York soon after it opened, but I just didn't understand.  I have to confess, after seeing dozens of exquisite examples on that beautiful fall afternoon at the museum, I still had no idea.  
Every winter Beatriz would create a mandala at my parent's vacation home near Key West.  My mother would donate the surplus from her sand collection, each from a different beach or desert around the world, gifted by friends on their travels or collected by her. 
It was amazing to see how my sister would weave their colors to construct a new mandala every year.  Upon completion, it lasted only a few hours or days, as the sand would slowly disperse with the breeze.
I'm really proud of this design, I think my sister would have loved it too.
Chakra Mandala
It wasn't until I read about mandalas that I could begin to understand their meaning.  To me, a mandala is a representation, a representation of the universe in its totality, a universe that can include the world around us (the cosmos), or just be our self (the person).
My Chakra Mandala rings are "inner" mandalas that represent the person. Each ring includes the seven colors of chakra, an ancient framework for recognizing the energies in a woman's body, extending radially and allowing the wearer to progress through each chakra as prayers to a rosary.
My Favorite Parts of this Ring
I think I didn't really understand what a mandala was until I designed this ring.  As I designed it, I continuously tried to make it more and more complex, I wanted to include more, and to not be simple.  I kept adding layer upon layer to it, until I saw it not as a set of layers, but as a whole.  
That is why this ring is a mandala.  With all of the complexity of the universe, with its myriad paths and energies, it is a whole, and that is where its beauty is found.  Without every layer, it would not be complete.
Obsessed with Charms
Charms are my favorite storytellers because they not only capture our memories but compel us to share our stories with the ones we love.
Simple or complex, whimsical or serious, purchased or found, there is no wrong way to create or choose a charm. There is no time line or goal, the best collections grow as their owners collect memories.
Each of my charms has its own story, but I'd like you to make it your own, and one day share it with the ones you love.
My Signature Charm Bracelet
I've always loved charms, and I wanted my charm bracelet to be both classic and functional. The perfect rhythm of the links, one large ellipse then 3 small rings are the perfect backdrop for my charms or any you may want to attach on your own.
It may not seem like much, but as part of my first bracelet design I also created a novel toggle system that I am especially proud of.  Based on the Pharaoun signature "PP" hallmark, it is easy to secure and lies flat and elegantly on the wrist.  I'd love to hear what you think about it!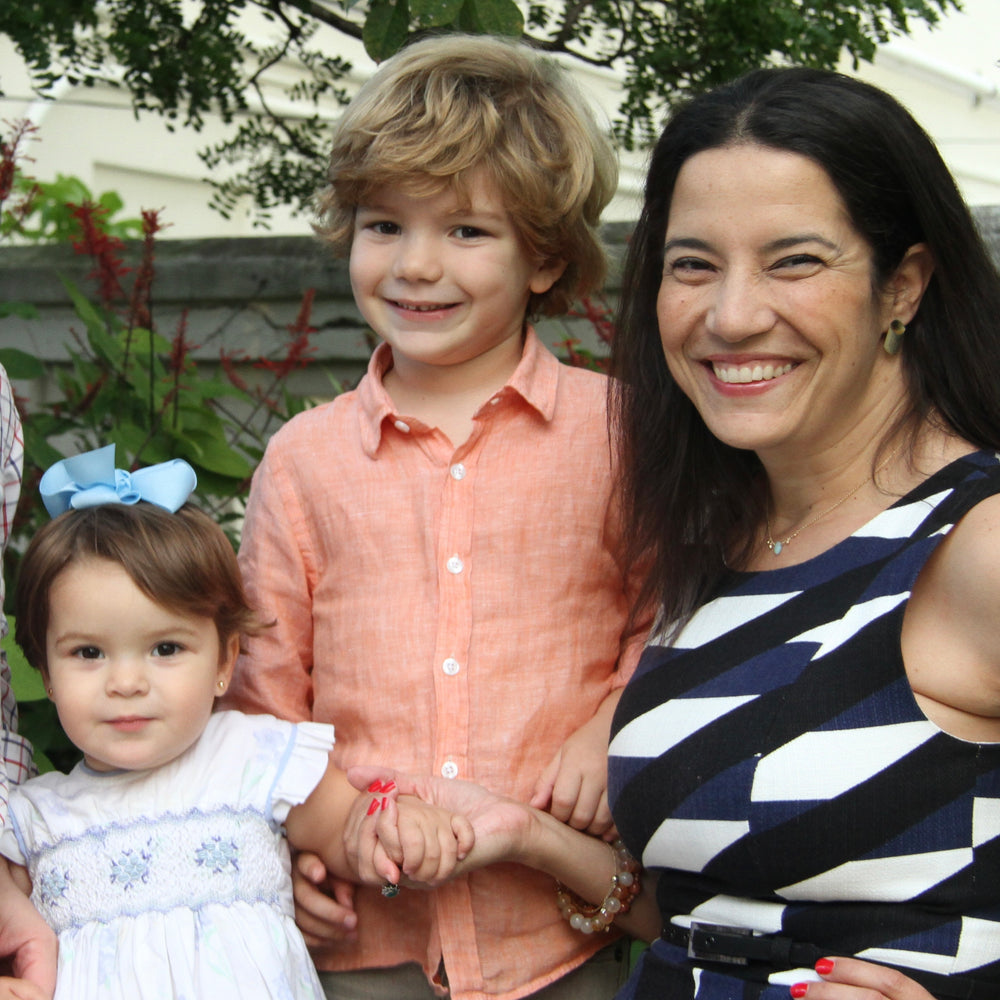 To Honor Sarah
I lost my wife Sarah to metastatic breast cancer in 2017, and I created Pharaoun to honor her memory by honoring the women in my life.
Sarah taught me about joy, romantic love, and how wonderful our relationships with our children can be.  She taught me so much, and I'm still learning from her.  One of her biggest lessons inspired the Pink Key Society.
Sarah's natural elegance, her smile, and her love of people and life was contagious.  She made everyone feel incredible, loved, and happy.  I am so blessed that she was my partner for ten years, and she is a large part of my heart.  
She is the woman that inspires every design, and I dedicate Pharaoun to her.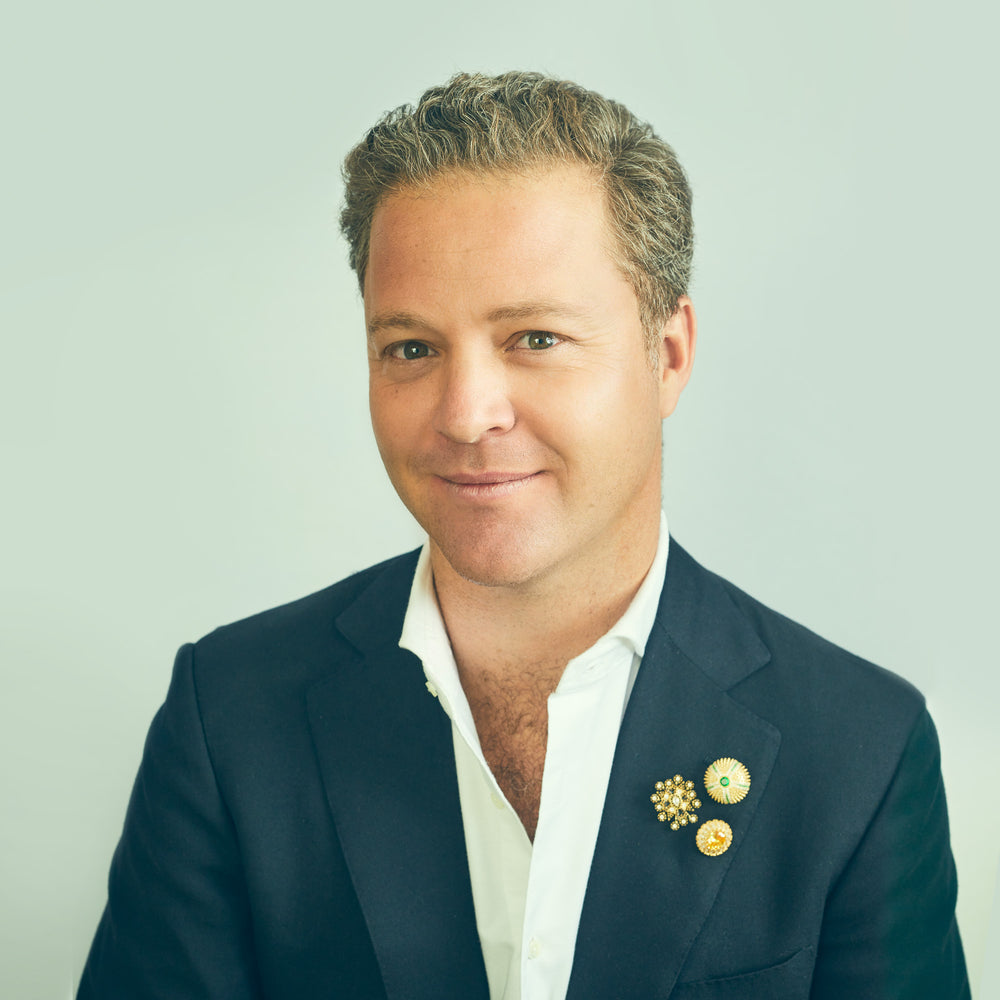 Your Pharaoun should remind you of your favorite version of yourself.
"What I find is that in the chaos of every day, women forget themselves, their strength, their beauty, and their independence.  
I want my designs to inspire women to be their favorite version of themselves, and that starts with you honoring yourself."
- Sergio Andrés Mendoza, Designer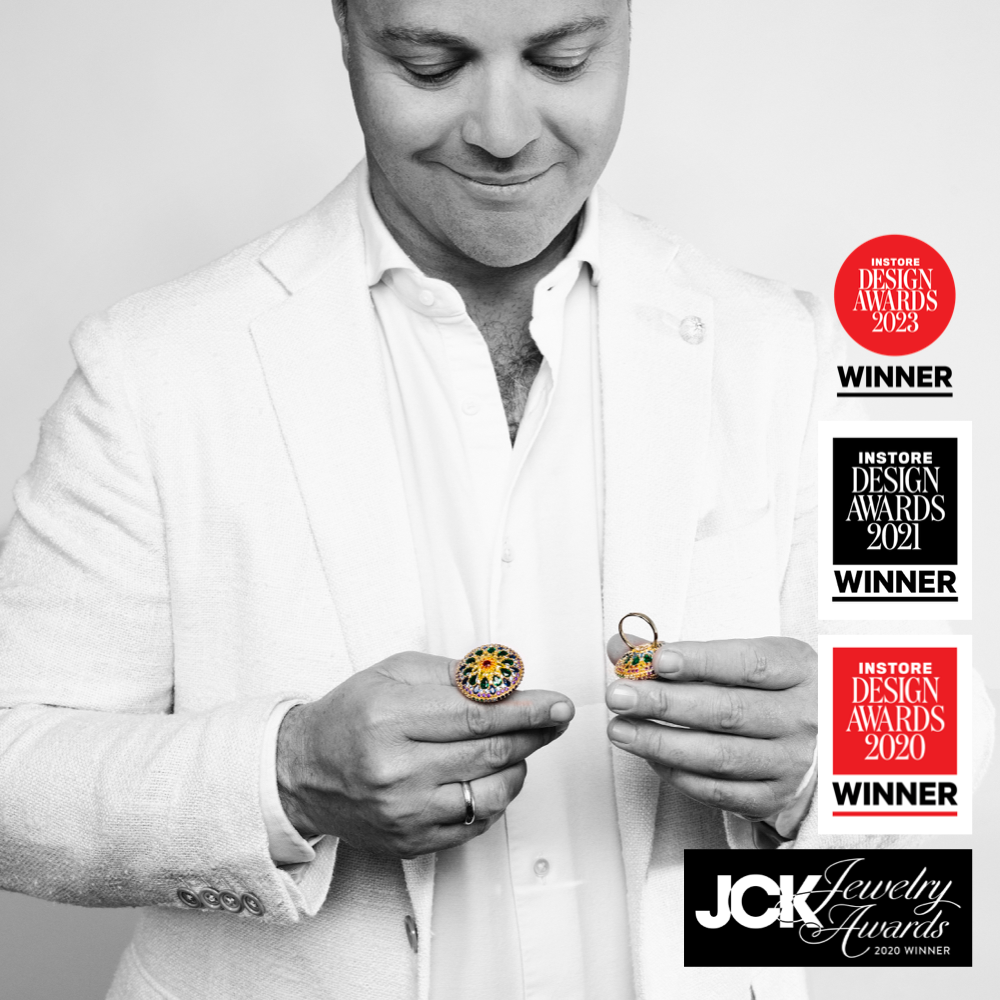 Award-Winning Designs
In February 2020, at my first JCK jewelry show ever, I was blessed to win the main design award with my Chakra Mandala.
In May 2020, my design won two more awards from INSTORE for best ring and best silver jewelry.
In 2021, I won more awards for my Bonbon collection.
In 2023, I won another award for my Starfish Totem.
I am so grateful for the recognition and support these awards symbolize, and I promise to keep creating designs that inspire you. Thank you. Sergio.
Sergio Andrés' Personal Style
Jewelry has always been a part of my life, but it wasn't until my wife died from metastatic breast cancer that I started designing for the women in my life.
It has been an amazing ride.  I have met thousands of women, and created a mission, for women to see themselves the way I see them, to create a world where they honor themselves.  My specialty has become cocktail rings, statement pieces that a woman chooses for herself, that I hope remind her of her favorite version of herself.
At the same time, I have always purchased vintage jewelry, both brooches and cufflinks, and I soon found myself adapting my designs to the types of pieces that I would like to wear myself.