My Personal Style
Jewelry has always been a part of my life, but it wasn't until my wife died from metastatic breast cancer that I started designing for the women in my life.
It has been an amazing ride.  I have met thousands of women, and created a mission, for women to see themselves the way I see them, to create a world where they honor themselves.  My specialty has become cocktail rings, statement pieces that a woman chooses for herself, that I hope remind her of her favorite version of herself.
At the same time, I have always purchased vintage jewelry, both brooches and cufflinks, and I soon found myself adapting my designs to the types of pieces that I would like to wear myself.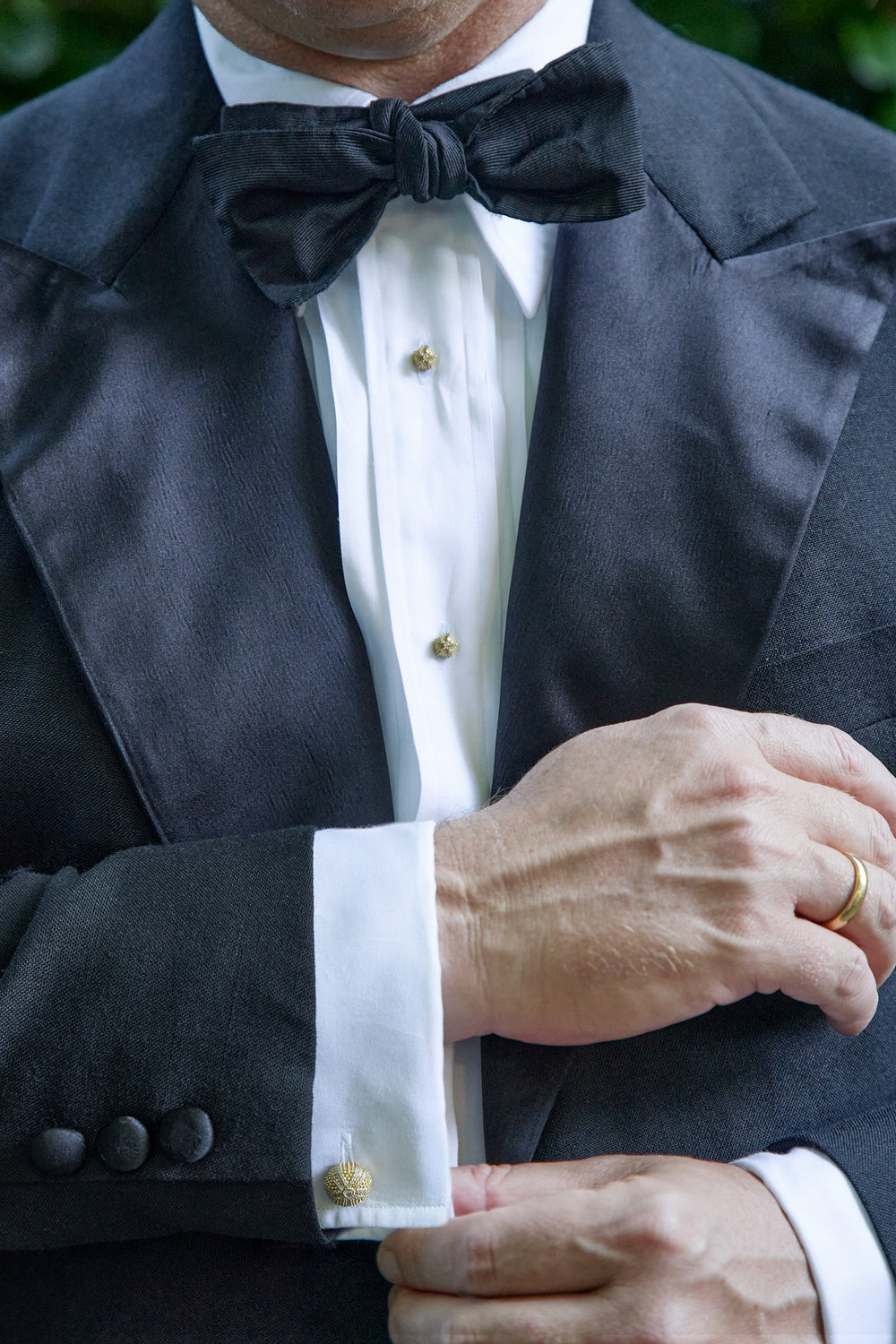 My version of the best of classic elegance
I started with my tiny and exquisite sea urchin cufflinks and shirt studs.  I took my favorite vintage pieces, the tiny art deco studs, the intricate chains, and the interminable details and used them to inform my designs.
My designs reflect the exact dimensions, details, and volume that I desired to achieve my vision of maximum elegance when I wear black tie.
Each cufflink is two-sided, with a smaller sea urchin that is designed to fit through the button-hole and is attached to the other with an intricate handmade chain that allows your cuffs to hang comfortably on your wrist.
The larger (yet still discrete) sea urchin has a special surprise, an array of stones on the underside, hidden from the world, like the linings of your favorite blazer, for only you, the owner, to admire and appreciate.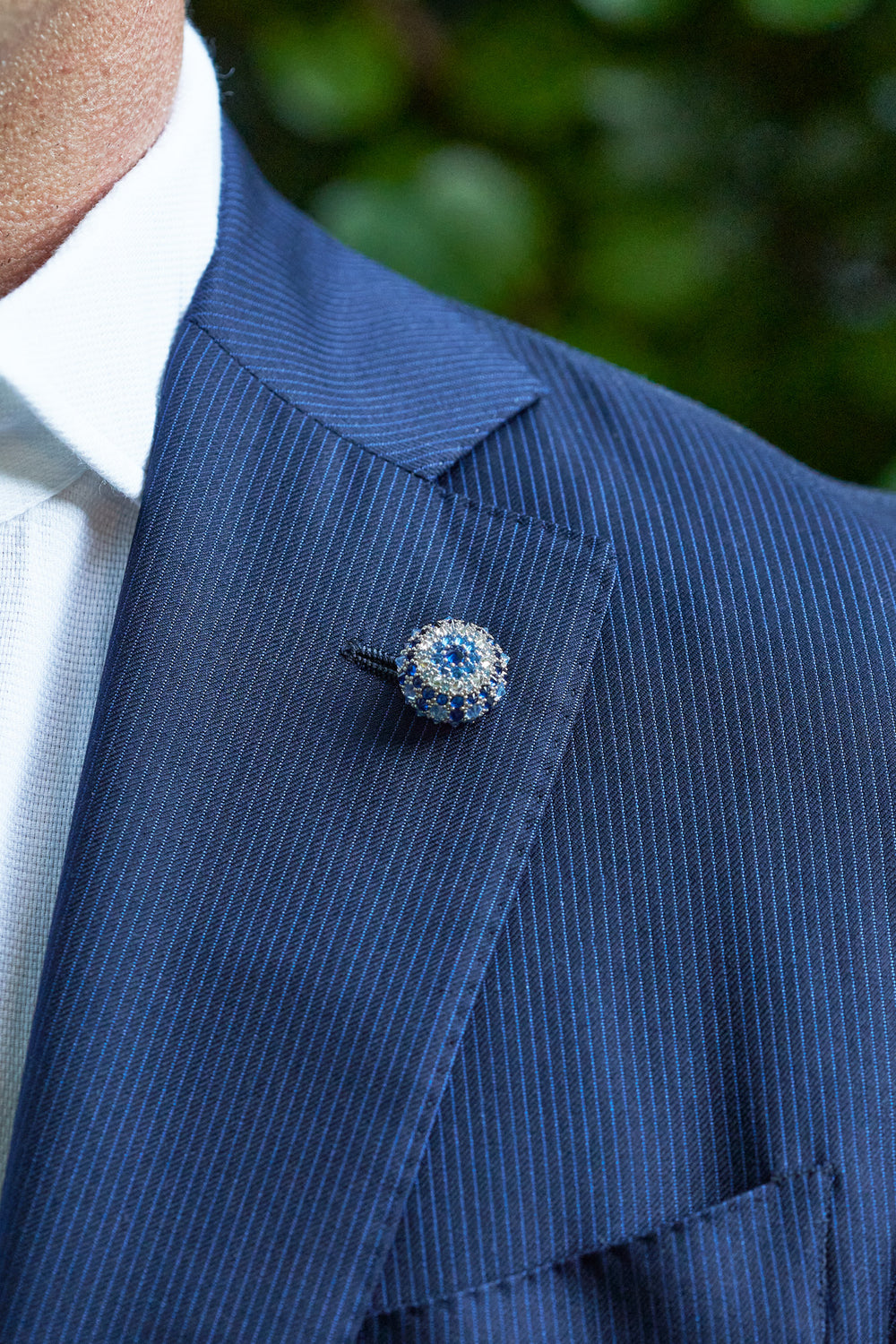 From the world of high jewelry to your lapel
I have always loved the idea of a lapel pin, but they are impossible.  Most brooches are too big, and most vintage hat pins are too boring.
So I started adapting my award-winning designs to wear myself.  
First, I made my designs smaller.  I think the red-carpet looks are amazing, they just aren't for me.  To me, a discrete but exquisite piece makes a better impression than a design that screams at you.
Second, I needed a way to attach the pins to my blazers and suits without damaging them.  I love my clothing too much, and I plan on wearing these jackets for the rest of my life.   So, I created a long pin style that could be placed directly through my (hand-stitched if possible) lapel buttonhole, and then secured on the back of my lapel invisibly.  Even though I use the pin to pierce the fabric on the back of the lapel to keep it perfectly in place, it usually finds its way between the warp and weft, and I can easily tease it out if I ever need to.
Even I was amazed at the look.  Each of my jackets felt like it was completely fresh again, and like a new watch band for my favorite watch, it gave me new life too!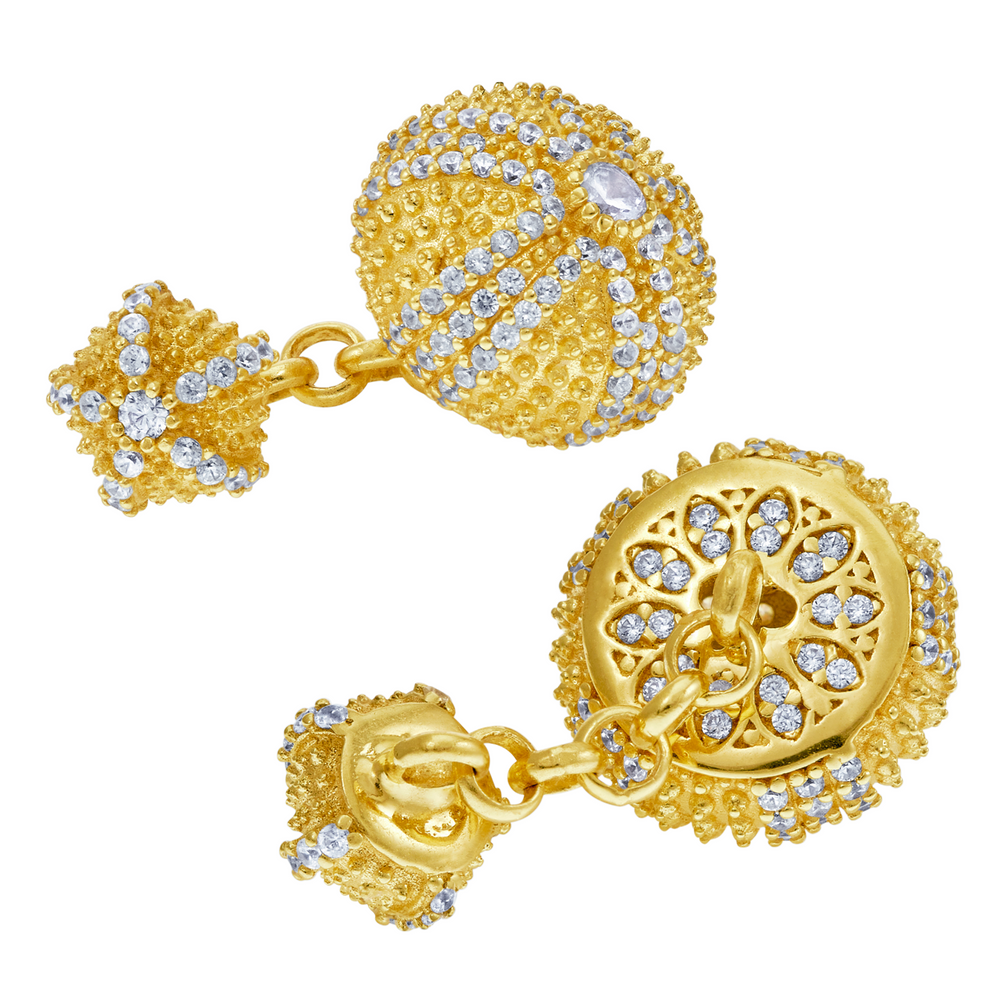 Exquisite craftsmanship
I am sure that you, like I, do everything you can to make sure your life is not lazy, not cheap, and not boring, so I make sure to design pieces that are elegant, beautiful, understated and exquisite to help you get there.
I cut my teeth creating jewelry for the most discriminating women in the world, and believe that quality in craftsmanship is a requirement and a necessity.
Crafted from solid sterling silver and then plated in 22-karat gold, the manmade stones I use for each piece are perfectly matched and hand-set.  I want you to wear your Pharaoun as much as possible, and for it to still look great when you pass it on to the next generation.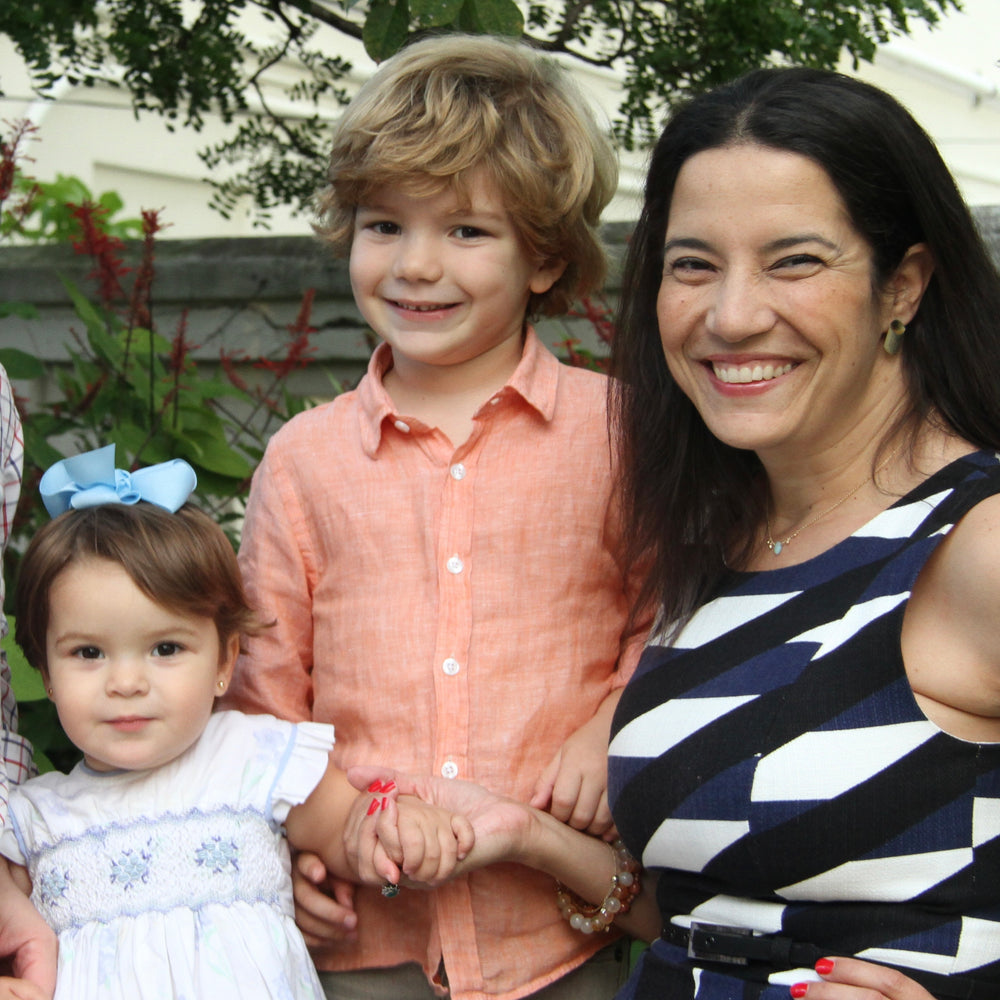 To Honor Sarah
I lost my wife Sarah to metastatic breast cancer in 2017, and I created Pharaoun to honor her memory by honoring the women in my life.
Sarah taught me about joy, romantic love, and how wonderful our relationships with our children can be.  She taught me so much, and I'm still learning from her.  One of her biggest lessons inspired the Pink Key Society.
Sarah's natural elegance, her smile, and her love of people and life was contagious.  She made everyone feel incredible, loved, and happy.  I am so blessed that she was my partner for ten years, and she is a large part of my heart.  
She is the woman that inspires every design, and I dedicate Pharaoun to her.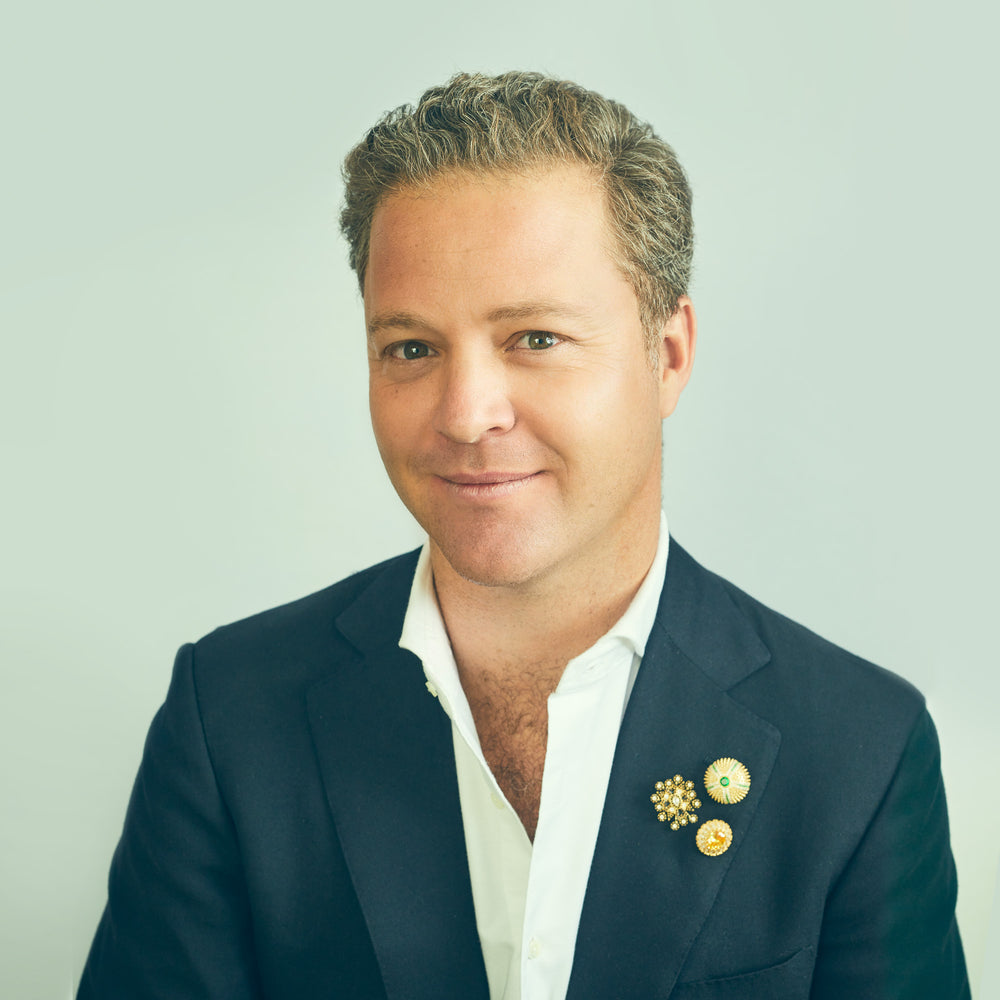 Your Pharaoun should remind you of your favorite version of yourself.
"What I find is that in the chaos of every day, women forget themselves, their strength, their beauty, and their independence.  
I want my designs to inspire women to be their favorite version of themselves, and that starts with you honoring yourself."
- Sergio Andrés Mendoza, Designer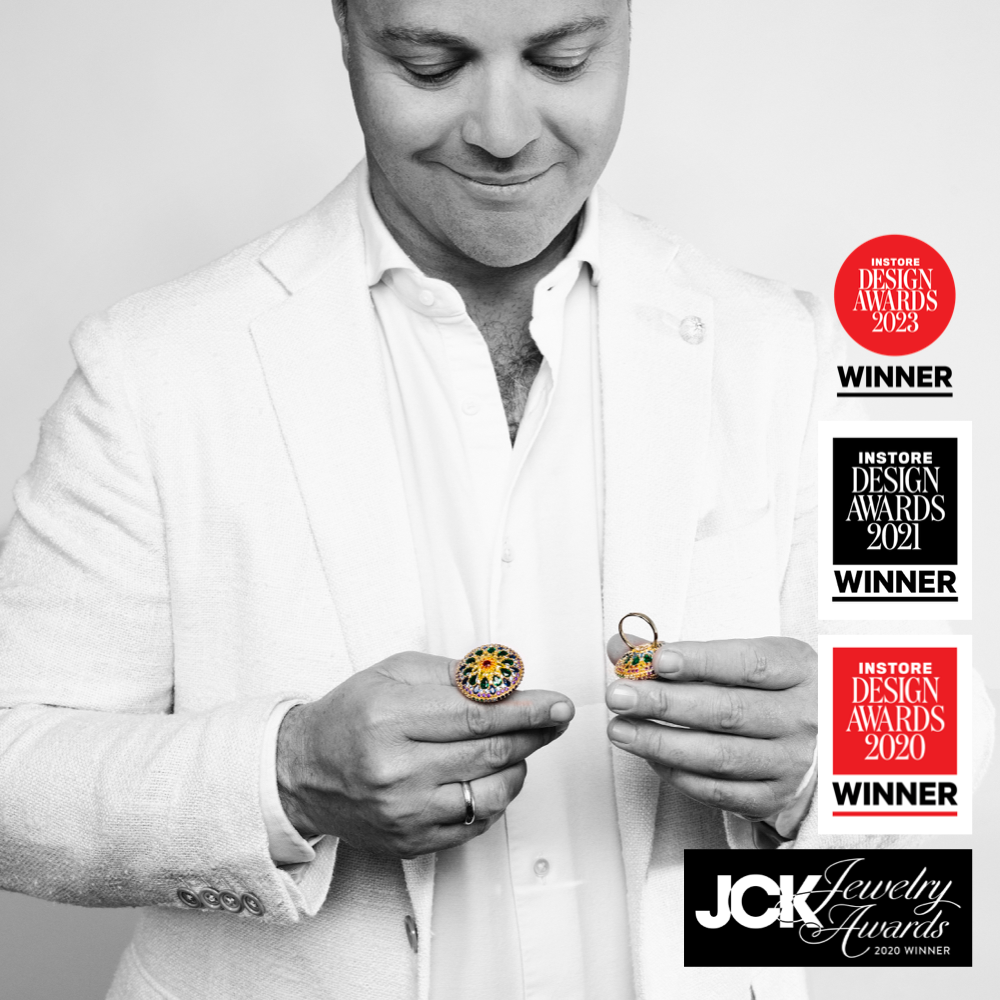 Award-Winning Designs
In February 2020, at my first JCK jewelry show ever, I was blessed to win the main design award with my Chakra Mandala.
In May 2020, my design won two more awards from INSTORE for best ring and best silver jewelry.
In 2021, I won more awards for my Bonbon collection.
In 2023, I won another award for my Starfish Totem.
I am so grateful for the recognition and support these awards symbolize, and I promise to keep creating designs that inspire you. Thank you. Sergio.