Regular price
$2,395
Sale price
$2,395
Unit price
per
Sale
Sold out
View full details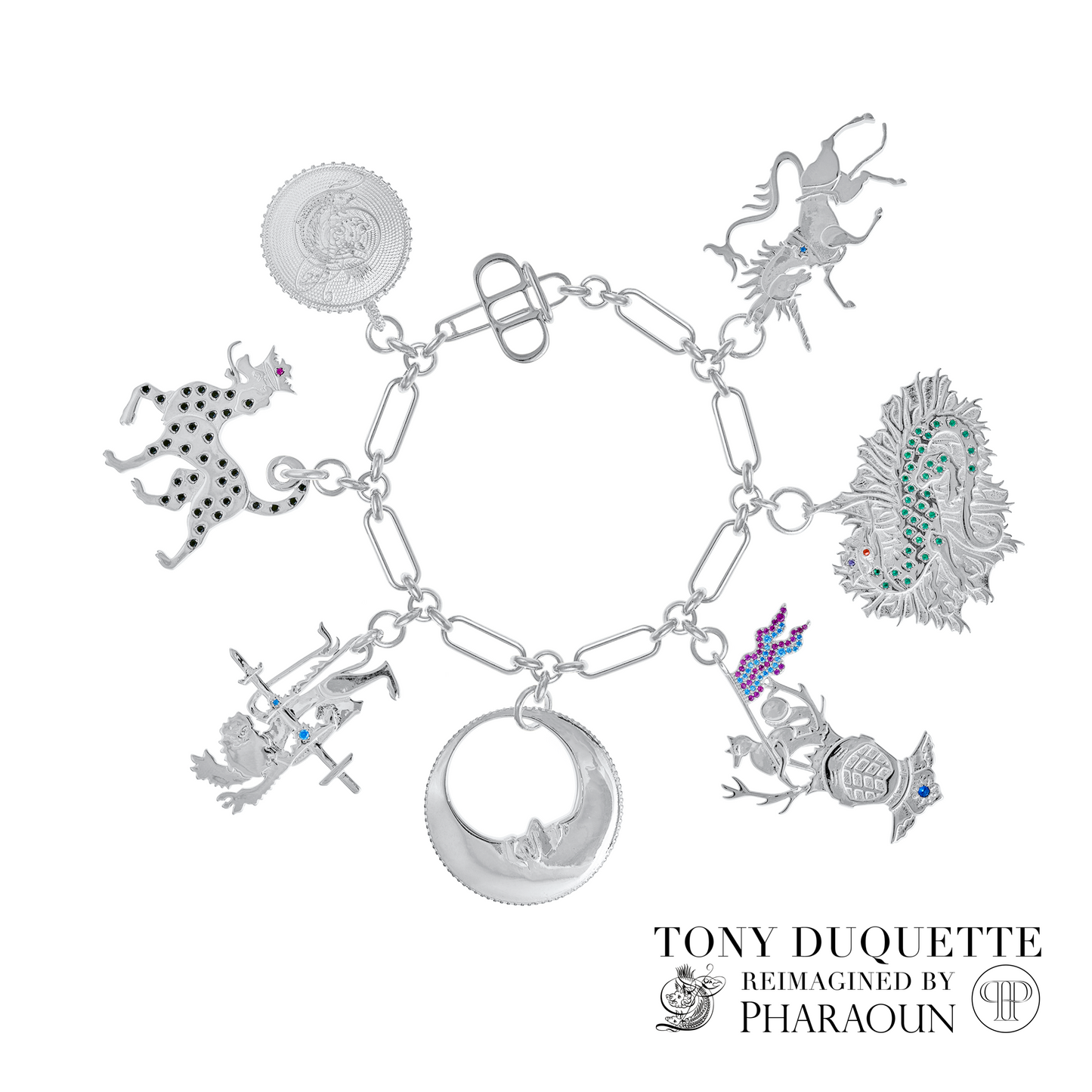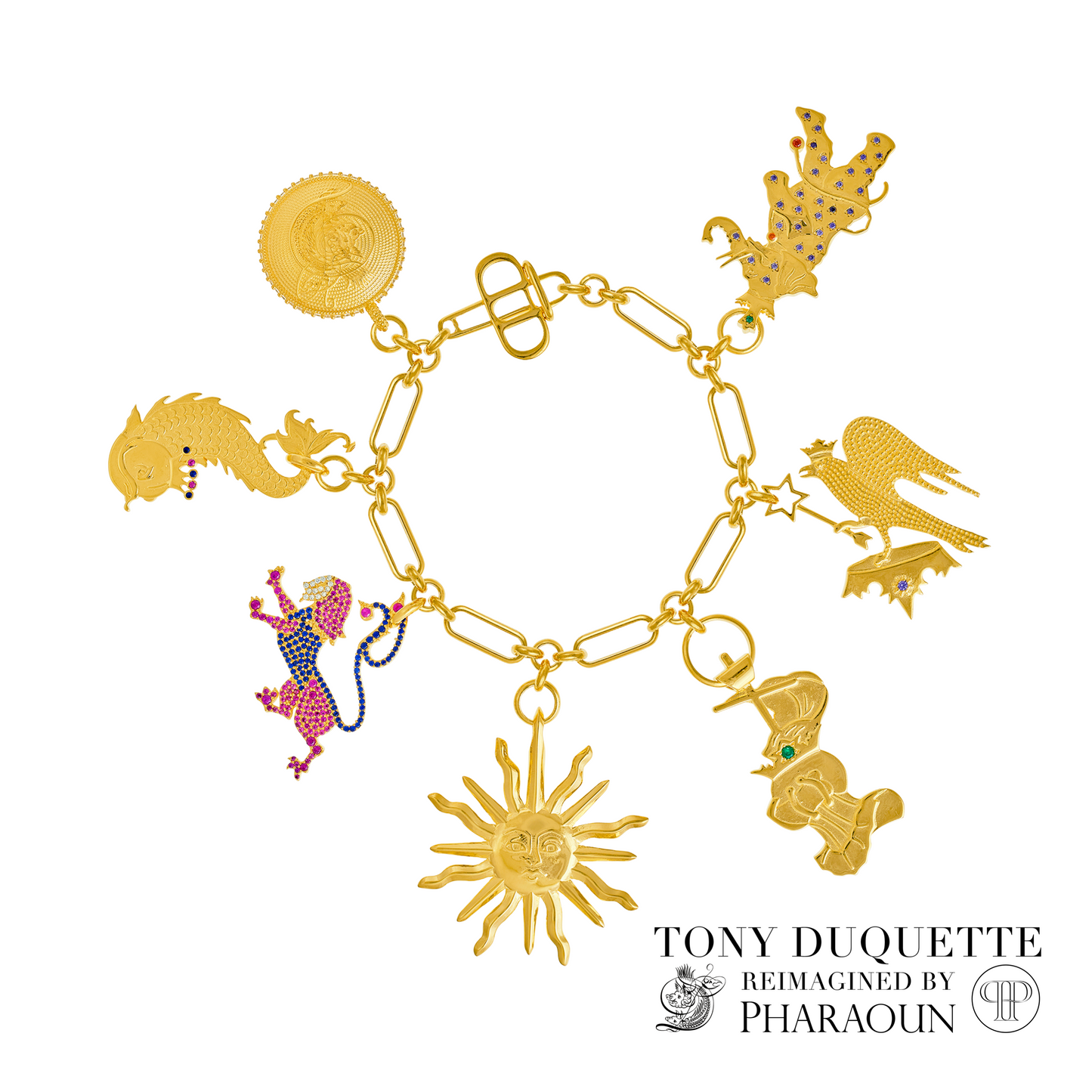 My Guarantee

Do you believe in value? I do. A beautiful piece of jewelry that is exquisitely crafted from noble materials has an intrinsic value, and I believe in ours.

The value of a Pharaoun design is real and timeless.

If for any reason you would like to return your Pharaoun piece to me, just ask, and I will purchase it from you for the full original purchase price, no questions asked.

That's My Guarantee - Sergio.
Craftsmanship & Materials

Each Pharaoun piece is designed by me, Sergio, and handmade in my workshop of sterling silver with manmade cubic zirconia stones. My yellow gold, pink gold, and black rhodium pieces are additionally plated in 22 karat yellow gold, 18 karat rose gold, and black rhodium respectively.

If you have any additional questions about my design or creation process, please contact me directly here:
Shipping

I try to ship out your pieces on the same day or next business day after you place your order. 

Domestic packages in the US that qualify for free shipping are sent either First Class or Priority Mail through USPS.  You should receive your Pharaoun pieces within 2 to 5 business days after placing your order.  If you have a special event or would like me to ship yours overnight, please let me know, and I will do everything I can to get your ring to you on time.

International packages are sent using Global Priority Express through USPS.  Time until delivery varies by country, but in my experience take between 3 and 30 days.
Returns

I want you to love your Pharaoun, so if it isn't perfect, please let me know, and I will exchange, replace or refund your order right away. 

Returns are accepted on any design regardless of the purchase date, for your choice of either an exchange or a full refund.

When you are ready, please email me at returns@pharaoun.com, so I can send out your new Pharaoun or refund you right away.
Tony Duquette
Tony Duquette was one of the great tastemakers of the 20th century, and even though I never had the chance to meet him, his prolific body of work and the broad range of his designs are a huge inspiration to me.  
A protege of the original American interior designer Elsie de Wolfe, Tony came of age just after the Second World War, and found his voice in the rarefied atmosphere where the Jet Set and Hollywood royalty converged.  Immediately recognized for his talent, in 1950 he was the first American to be honored with a one man exhibition at the Louvre Museum in Paris.  His paintings, sculpture, furniture, jewelry, and designs for the theatre exhibited there reveal the breadth of his boundless creativity.
Tony has inspired me through the books written about him, the monumental home he left (Dawnridge in Beverly Hills California), and his protege Hutton Wilkinson, who is just as exceptional as his mentor, and continues to push design forward today. 
Camelot
In 1960, Alan Jay Lerner and Frederick Loewe had the vision to adapt T.H. White's bestselling 1958 novel, The Once and Future King, into a musical featuring the biggest stars of the day, including Richard Burton, Julie Andrews, and Robert Goulet.  
This musical adaptation of the King Arthur legend took the world by storm and ran on Broadway for 873 performances and won four Tony Awards in 1961.  One of those Tony Awards was won by the young American artist Tony Duquette for best costume design.
Even though I was familiar with the King Arthur myth, I did not know that this play was the reason why the word "Camelot" is associated with the Kennedy family.
It turns out that: 
"A week after the assassination of U.S. President John F. Kennedy in November 1963, Kennedy's widow, Jackie Kennedy, was interviewed by Theodore H. White, an interview that ran in the December 1963 issue of Life magazine. 
In the interview, Jackie stated that the show's original cast recording had been a favorite bedtime listening for her husband (who had been Lerner's classmate at Harvard University), and that his favorite lines were in the final number: 'Don't let it be forgot/ That once there was a spot/ For one brief, shining moment/ That was known as Camelot'. 
She also made a direct comparison to the Camelot storyline, saying, 'There'll be great presidents again... but there'll never be another Camelot.' 
The veracity of her claim about her husband's love of Camelot has been disputed. Nevertheless, an association between Camelot and Kennedy's tenure as president formed immediately in the public consciousness, and has remained in the decades since."
Source: Wikipedia https://en.wikipedia.org/wiki/Camelot_(musical)
Knights of the Round Table
I like to think that one of the reasons why Camelot was so successful is because of the richness and beauty of Tony Duquette's award winning costume designs.  He created a powerful mythology in the iconography and the details he chose to represent each of the primary characters, the Knights of the Round Table, and it is in this iconography that I found the inspiration for my charms.
Each of the Knights has its own heraldry, and I found these icons impossible to resist. 
King Arthur, known for his unparalleled leadership, is represented by "lions rampant", the sword Excalibur, and his crown.
Guinevere, the most beautiful woman in the kingdom, loved by both King Arthur and Sir Lancelot, is represented by the unicorn.
Sir Lancelot, known for his passion and heroism is the first Knight of the Round Table, and is represented by a lion like King Arthur.
Sir Galahad, a son of Sir Lancelot, was capable of performing miracles such as banishing demons and healing the sick, and is represented by a knight's helmet crowned with antlers and a fox.
Merlin, the enchanter wizard with supernatural powers, is represented by the moon.
Morgan Le Fay, the passionate fairy goddess, is represented by the sun.
Mordred, the son of Arthur, is represented by a raven.
Sir Gawain, known for his bravery and as a defender of the poor, is represented by knight's armor crowned with a sailing ship.
Sir Sagremore, known for his passion, is represented by a crowned dolphin.
Sir Percival, known for his grace and innocence, is represented by a salamander emerging from flames.
Sir Dinadan, known for his humor and pragmatism, is represented by a crowned Dalmatian dog.
Sir Pellinore is represented by a crowned elephant with broken chains.
My Favorite Parts of this Design
I love love love charms!  I find their diversity, whimsy, and uniqueness so much fun!  I always get lost in my grandmother's charm bracelets, and I designed my charms to incorporate my favorite aspects of charms.
The first thing I love about these charms is that they are unique.  Not one is simple, and each one has the beauty of Tony Duquette's singular vision.
These charms are not just sturdy (I hate flimsy charms), but they are whimsical!  I love it when charms seem "found", and not necessarily designed to be charms, but look amazing on a charm bracelet any way.  I tried to recreate that whimsy with each piece, but I am especially fond of Sir Dinadan's dog attaching by the tail, Merlin's moon always being silver, and Mordred's raven's magic wand!  
I love it when charms feel good in your hands, so even though I was adapting 2-dimensional drawings, I wanted each piece to be sculptural and give tactile pleasure.  I hope as you hold your charm you are enamored by it as well.
My favorite charm bracelet is one of my grandmother's, and it is covered with heavy 18th century Spanish gold coins. I have always loved how heavy and significant her bracelet is, and since Tony Duquette is most famous for not having any limits, I wanted my charm bracelet to make a statement as well.
It may not seem like much, but as part of my first bracelet design I also created a novel toggle system that I am especially proud of.  Based on the Pharaoun signature "PP" hallmark, it is easy to secure and lies flat and elegantly on the wrist.  I'd love to hear what you think about it!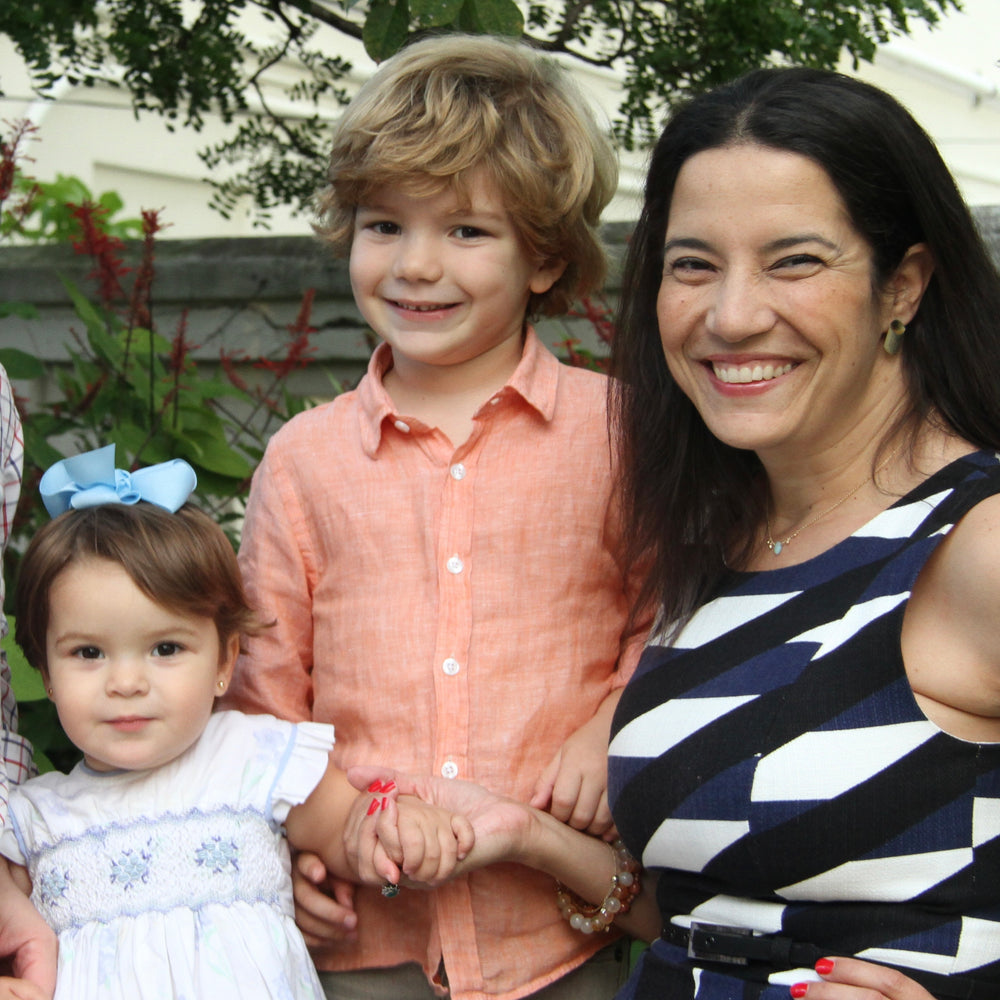 To Honor Sarah
I lost my wife Sarah to metastatic breast cancer in 2017, and I created Pharaoun to honor her memory by honoring the women in my life.
Sarah taught me about joy, romantic love, and how wonderful our relationships with our children can be.  She taught me so much, and I'm still learning from her.  One of her biggest lessons inspired the Pink Key Society.
Sarah's natural elegance, her smile, and her love of people and life was contagious.  She made everyone feel incredible, loved, and happy.  I am so blessed that she was my partner for ten years, and she is a large part of my heart.  
She is the woman that inspires every design, and I dedicate Pharaoun to her.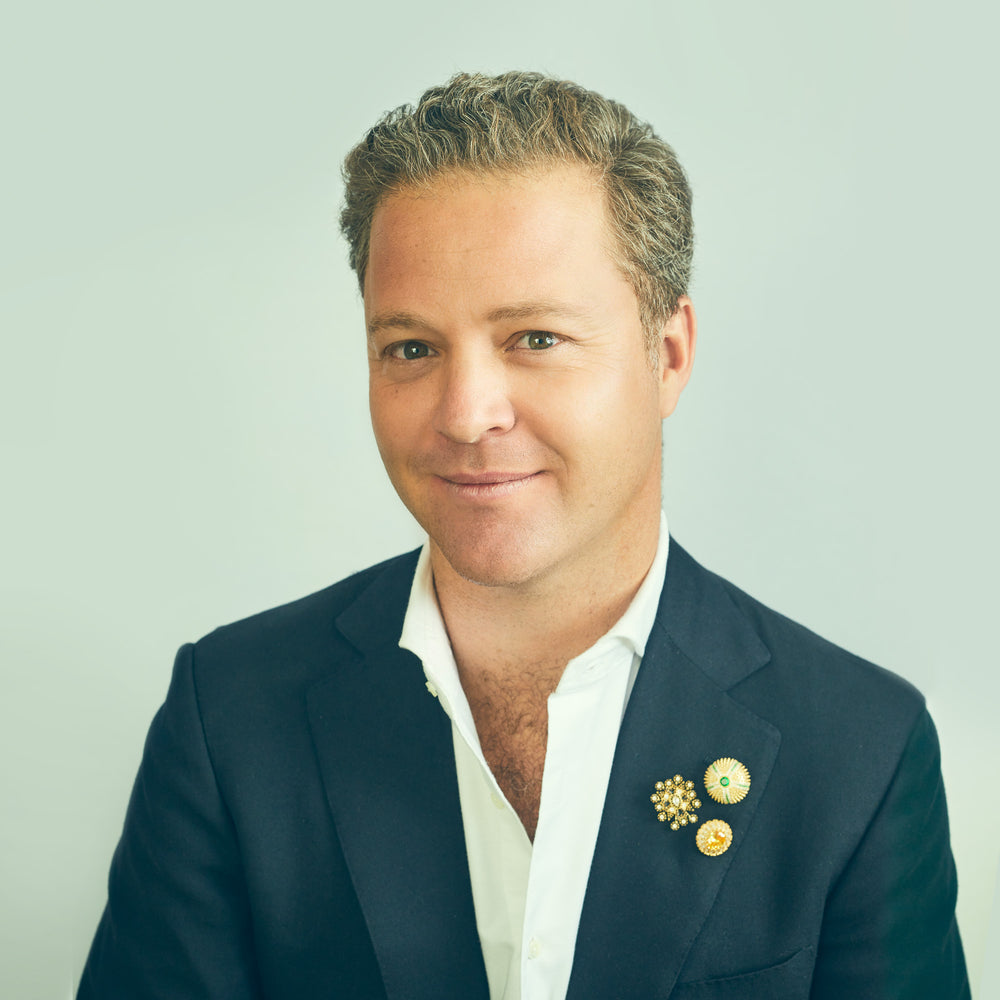 Your Pharaoun should remind you of your favorite version of yourself.
"What I find is that in the chaos of every day, women forget themselves, their strength, their beauty, and their independence.  
I want my designs to inspire women to be their favorite version of themselves, and that starts with you honoring yourself."
- Sergio Andrés Mendoza, Designer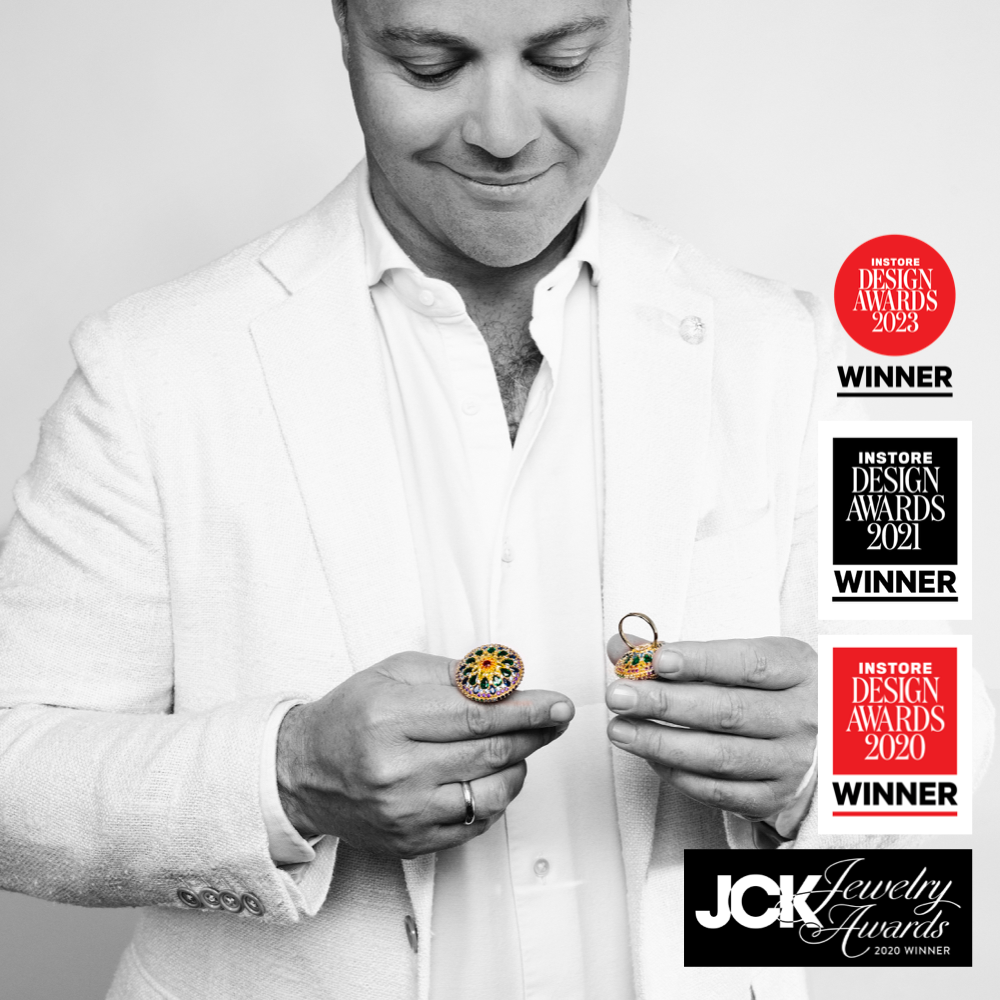 Award-Winning Designs
In February 2020, at my first JCK jewelry show ever, I was blessed to win the main design award with my Chakra Mandala.
In May 2020, my design won two more awards from INSTORE for best ring and best silver jewelry.
In 2021, I won more awards for my Bonbon collection.
In 2023, I won another award for my Starfish Totem.
I am so grateful for the recognition and support these awards symbolize, and I promise to keep creating designs that inspire you. Thank you. Sergio.
Sergio Andrés' Personal Style
Jewelry has always been a part of my life, but it wasn't until my wife died from metastatic breast cancer that I started designing for the women in my life.
It has been an amazing ride.  I have met thousands of women, and created a mission, for women to see themselves the way I see them, to create a world where they honor themselves.  My specialty has become cocktail rings, statement pieces that a woman chooses for herself, that I hope remind her of her favorite version of herself.
At the same time, I have always purchased vintage jewelry, both brooches and cufflinks, and I soon found myself adapting my designs to the types of pieces that I would like to wear myself.