Checkmate Bonbon Cocktail Ring
Your ring should remind you of your favorite version of yourself.
100% NO-RISK MONEY BACK GUARANTEE
Your ring should remind you of your favorite version of yourself.
The Story of Checkmate

Some of my fondest childhood memories include jewelry, so even though the path to Pharaoun was not direct, it seems like it was always meant to be. I give my grandmothers all of the credit.
My grandmothers Elodia and Enid were strong matriarchs, and lived very practical lives as they led their families in exile. They were wealthy in Cuba, and in spite of losing almost everything, they were able to preserve some jewelry.
I now realize how important this jewelry must have been to them, as it was one of the few reminders of their previous lives.
They loved opening their treasure chests and sharing their favorite pieces and the stories behind them with me. Just as they were transported to their past, and reminded of their glory, I found myself right there with them. I live with those memories and hope that I can share that legacy with my children as well.
I especially love their Art Deco jewelry. It is an amazing coincidence that Cuba controlled a large percentage of the worldwide sugar market immediately after the first World War. Fortunes were made, and it was known as the La Danza de los Millones (The Dance of the Millions). Notably, it was at the same time that Art Deco peaked in popularity, and Cubans were graced with having a huge amount of money at a time of incomparable taste.
My Favorite Parts of this Ring
In my fantasy, my Checkmate Bonbon was designed a hundred years ago at the height of Art Deco, during this amazing era of style and taste. The classic juxtaposition of stones that accentuate the subtle geometry of my Bonbon design is my homage to the Art Deco movement and the peerless taste of its master jewelers.

You might think I am completely irreverent for turning each of the stones upside down and reverse-setting them for this design, but in the process, I was forced to create a new geometry to support the unfamiliar reflections of these typically hidden facets, which I believe led me to a complete design that feels perfectly classical.
I must confess, I am in love with my Bonbon design. Small enough for every day, but significant enough to have recognizable power, every time I hold a Bonbon in my hand, I feel its magic, and I can't help but smile.
I chose to name this collection after my favorite chocolate confection, the bonbon, because I believe there is also a special magic in exploring a box of exquisite chocolates. With each piece, there is the potential to find yourself in its unique flavor and reveal a special joy. My hope is that I can create Bonbons as diverse as your strengths, and that your Bonbon captures a little magic for you.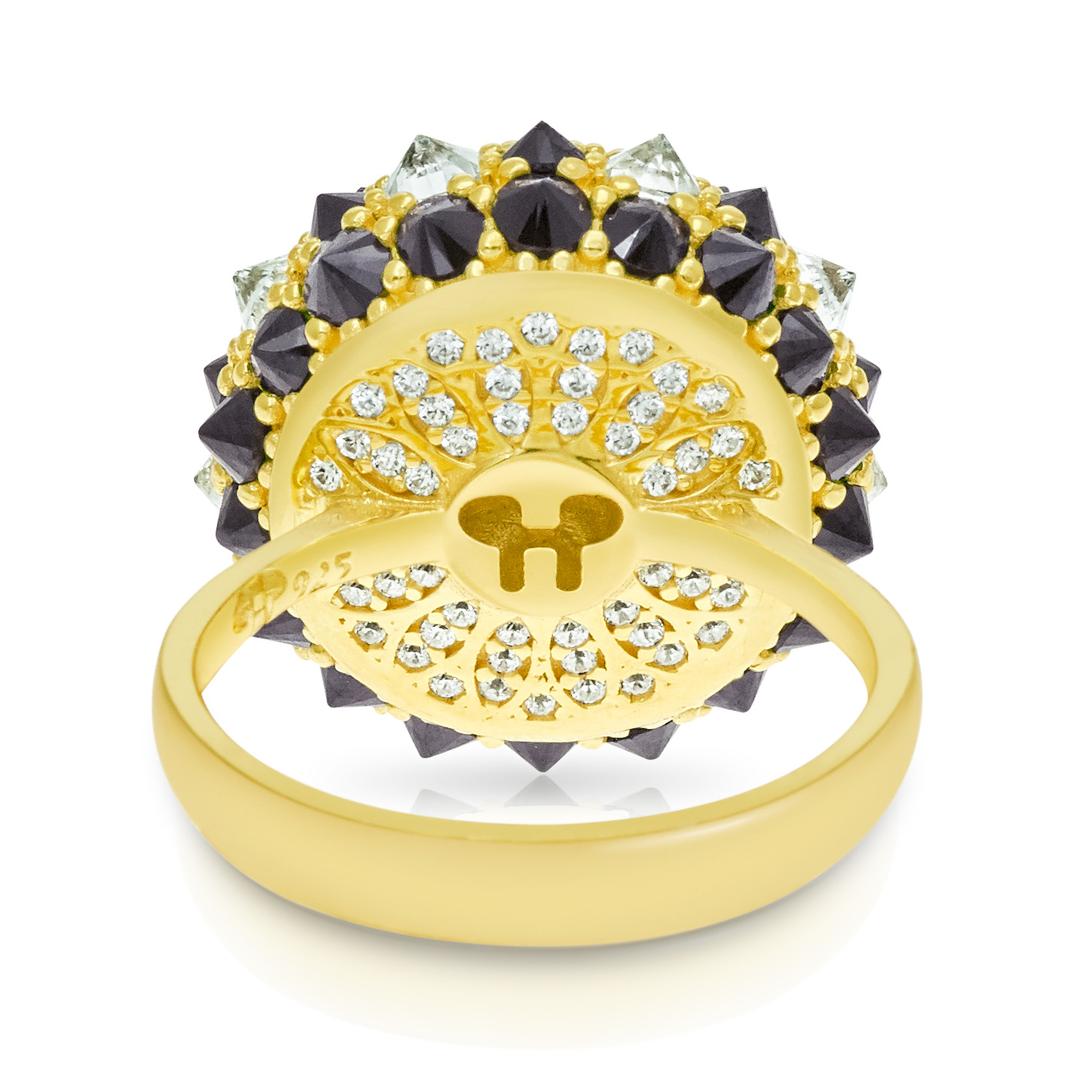 Hidden Jewels
Have you seen the beautiful stones on the back of this ring? They are exquisite, but not visible to all. Who are they for if no one can see them?
They are for you, not them.
This ring is for you, and just like you, this ring does not need to reveal itself to others for you to know what you have inside.
This beauty is hidden from others not because you are afraid, but as a reminder that I know that your strength is always there, whether you show it, or the world sees it, or not.
Handmade in my workshop
Each Pharaoun Cocktail Ring is designed by me, Sergio Andrés Mendoza, and produced using the lost-wax casting technique in my workshop out of sterling silver and then covered with 22 karat gold. The cubic zirconia used are each stone-cut, polished, and set by hand, and represent my favorite natural stones.
My Guarantee
Do you believe in value? I do.
A beautiful piece of jewelry that is exquisitely crafted from noble materials has an intrinsic value, and I believe in ours. The value of a Pharaoun cocktail ring is real and timeless.
If for any reason you would like to return your cocktail ring to me, just ask, and I will purchase it from you for the full original purchase price, no questions asked.
"I love my new ring!! ❤️
Thank you Sergio! 😊" - Carmen
❤️❤️❤️❤️❤️ "Dear Sergio, Let me tell you a little about 'the ring'. I love wearing it. I love the way it makes me feel and I love the way it looks. Every time I have worn it, people stop in their tracks to compliment me on it. Thank you for sharing your beauty with me." - Rita
Unsure of your ring size?
Every woman should know her ring size, I'd love to send you my free ring sizer.